70 Plus Best Free Fonts for Designers
Excerpt of "70 Plus Best Free Fonts for Designers – Free for Commercial Use in 2021"
I've done extensive digging and found 70+ fonts that offer free licenses for commercial (and personal) use.
Keep in mind, some licensing terms might limit what you can do (no repackaging or reselling fonts, for example), but otherwise, you're in the clear when it comes to standard usage of these fonts.
How to Choose the Best Font for Your Project
Now that you're on the path to choosing the best free fonts for commercial use, you want to think about how you'll be using said fonts. Since every project is different, you want to select typefaces that reflect the goals and overall tone for each particular design. Read on for some key considerations when you're choosing fonts.
1. What's Your Project?
The type of project you're working on can help direct your font choices. Will it be in print or displayed on a website (or both)? Is it for a major publication like a newspaper or magazine, or a casual newsletter? Handmade product labels or high-end wedding invitations? Or perhaps you have a poster that calls for a retro-style logo with bold headlines.
In other words, some projects might call for a less formal look with a sans-serif or hand-lettered font, while more elaborate designs require a brush script or classic-looking serif font. Once you have a theme in mind, it can help you narrow down potential font categories much quicker.
2. What's Your Design Aesthetic?
Think about the target audience and the image you're hoping to project. Do you cater to a younger crowd or an older, more sophisticated demographic? Think about the colors and images you use in your branding – are they playful and light, neutral and timeless, or deep and mysterious?
Your font choices should fit in naturally with the materials – something cutesy might not resonate with a mature or high-end crowd, while plain-looking fonts wouldn't reflect a lively personality.
3. What's Your Competition Using?
Building on your design goals, take a look at the work of your peers and business competitors. What catches your attention and has you curious about their products and services? What design schemes and typographic choices seem to be working for them that you could use as inspiration for your own projects?
Big-name brands often use custom-made logotypes or premium-quality (read: pricey) commercial fonts, but there are still plenty of free alternatives that might also work for you.
4. Choosing Fonts That Pair Well
If you decide to use more than one font in a design, you want to ensure they work well together. But don't get carried away, either – stick to two or three font styles at the maximum. A little contrast in size and font weights can help you organize information on a flyer or a website, but if there's too much variance in the fonts, it can make things look chaotic and disorganized.
Play around with combinations until you find the right look, or check out websites that suggest font pairings if you need a little extra guidance.
5. Keeping Font Fixes to a Minimum
Another important consideration – choosing fonts that require minimal design tweaks. After all, if you spend hours on a document only to find the letter spacing is uneven due to poor kerning (too much space between letters), you may find yourself scrambling for a replacement font.
Some issues are easily adjusted when a trained designer is working on your projects, but this can eat away at your time and budget if you're working with a printing company or doing the work solo. Before you make font decisions, look at sample images – many websites show full font previews to give you a look and feel for the type. As an added bonus, some websites even let you test out fonts before you download them.
Worth noting – in the examples to come, I haven't modified the spacing of the fonts in any way, so you can see exactly how they'll come together with no further (or very minor) adjustments.
Serif Fonts
Let's get started with classic serif fonts – these are traditionally used by newspapers and book publishers, and many high-dollar brands use them for their advertising campaigns and logo designs.
Serif fonts – characterized by their little "feet" and decorative features, provide a more formal and conservative look that works particularly well for printed media.
Bitter
Styles: 4
Designer: Sol Matas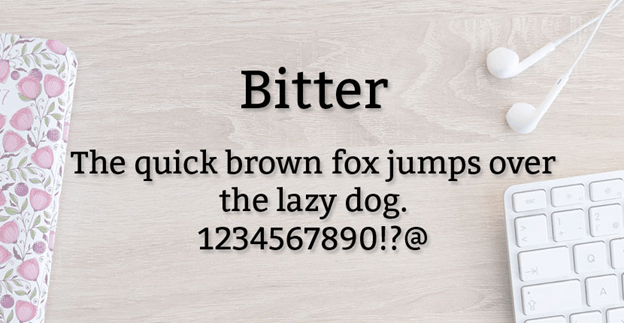 Bitter features the formal look of serifs without looking too fancy, plus it's designed to support multiple languages with optional ligatures (joined letter combinations like ff, tt, and fl). Comes in regular (shown here), italic, bold, and black font weights.
Bodoni XT
Styles: 1
Designer: Manfred Klein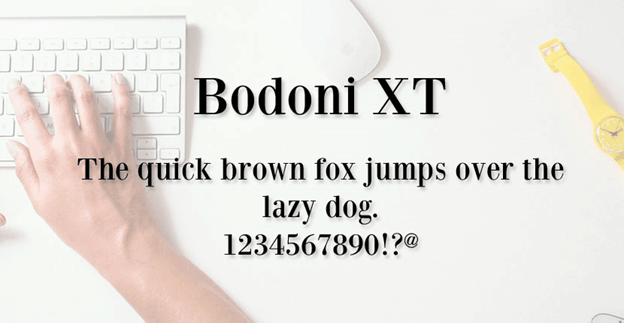 A traditional serif font with extra characters for Latin-based languages. Bodoni XT is an excellent choice for formal documents, newspapers, and printed books. This version comes in the regular weight only, although you can set it in faux italics with software that supports the setting.
Elsie
Styles: 4
Designer: Alejandro Inler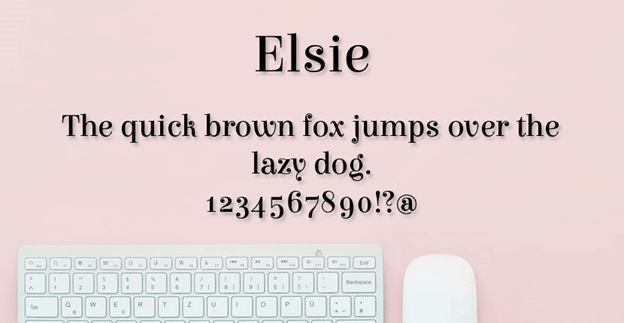 This serif font has a fun and feminine feel to it. Elsie features elements of Bodoni with curly serifs that add extra personality without being too distracting. It comes in regular, swash caps (a fancier style of capital letters), black, and black swash caps.